Getting Stoned with Savages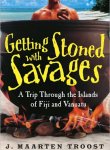 Veröffentlicht ›
22.07.2011
Besuche ›
211
Kategorie ›
Reisen & Urlaub
Beschreibung ›
With
The Sex Lives of Cannibals
, Maarten Troost established himself as one of the most engaging and original travel writers around.
Getting Stoned with Savages
again reveals his wry wit and infectious joy of discovery in a side-splittingly funny account of life in the farthest reaches of the world. After two grueling years on the island of Tarawa, battling feral dogs, machete-wielding neighbors, and a lack of beer on a daily basis, Maarten Troost was in no hurry to return to the South Pacific.
But as time went on, he realized he felt remarkably out of place among the trappings of twenty-first-century America. When he found himself holding down a job—one that might possibly lead to a career—he knew it was time for him and his wife, Sylvia, to repack their bags and set off for parts unknown.

Getting Stoned with Savages
tells the hilarious story of Troost's time on Vanuatu—a rugged cluster of islands where the natives gorge themselves on kava and are still known to "eat the man." Falling into one amusing misadventure after another, Troost struggles against typhoons, earthquakes, and giant centipedes and soon finds himself swept up in the laid-back, clothing-optional lifestyle of the islanders.
When Sylvia gets pregnant, they decamp for slightly-more-civilized Fiji, a fallen paradise where the local chiefs can be found watching rugby in the house next door. And as they contend with new parenthood in a country rife with prostitutes and government coups, their son begins to take quite naturally to island living—in complete contrast to his dad.
---