India: A Million Mutinies Now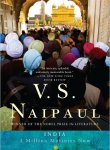 Veröffentlicht ›
22.07.2011
Besuche ›
224
Kategorie ›
Reisen & Urlaub
Beschreibung ›
Nobel laureate V. S. Naipaul's impassioned and prescient travelogue of his journeys through his ancestral homeland, with a new preface by the author.

Arising out of Naipaul's lifelong obsession and passion for a country that is at once his and totally alien, India: A Million Mutinies Now relates the stories of many of the people he met traveling there more than fifty years ago. He explores how they have been steered by the innumerable frictions present in Indian society—the contradictions and compromises of religious faith, the whim and chaos of random political forces.

This book represents Naipaul's last word on his homeland, complementing his two other India travelogues, An Area of Darknessand India: A Wounded Civilization.
Annotation
Naipaul, of Indian heritage, was born and raised in Trinidad, but he recognized that it was his ancestral culture that governed who he was and how he thought. In this passionate portrait of a culture, a society, and a country, he returns to India, a nation in turmoil.
---